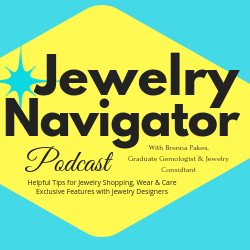 This month is the one year anniversary since the start of the Jewelry Navigator Podcast.
Jewelry Navigator remains on a course to connect shoppers to unique jewelry and share the stories of the designers who create it.
The episode explorations and destinations have been:
Jewelry made from luxury cars, like Ferraris and Maseratis, with Christi Schimpke of CRASH Jewelry.
The story of an architect who sees buildings as jewelry, with Emily Minton of MINTON with premium architecturally inspired jewelry.
Emily Kuvin, a former journalist and lawyer, who returned to her passion of jewelry design, and now creates the jewelry of her dreams.
Rachel Dery, a young woman, and gemologist, making a difference for East African miners with holisitic sourcing, and forging gem legacies.
California Girl Jewelry, a mother - daughter jewelry and gemology team who create exclusive jewelry with rare and beautiful gems. 
Samantha Jackson, and her jewlery company, Heavenly Vices' wearable jewelery treasures from exquisitely engraved coins.
Joyful and colorful enamel jewelry of May Came Home, by New York City native, artist, and graphic designer, Deborah Halperin.
Julie Lamb's jewelry encourages us to be "ewe" -nique using a play on words with her last name.
These are the highlights of just a few of the stories told in the first year of the Jewelry Navigator Podcast.
In honor of International Women's Day, all the jewelers and designers featured in this episode are women!
Each segment is from an entire podcast episode, and I encourage you to subscribe to the podcast if you already haven't, and binge or trickle listen to all the episodes.
I want to thank every woman in the industry, especially those who have allowed me to tell their story, and who has stood her ground, nurtured her vision, and picked herself back up when discouraged or doubtful.
Watch for the coordinating blog post on the jewelry navigator site, and until next time, cross check your sparkle!